is currently working with Marina Abramovic on the opera production 7 Deaths of Maria Callas. She previously worked for the new music incubator National Sawdust in New York City and was awarded with the Bavarian Cultural Award 2020. Lea Luka is an Alumna of Harvard's Mellon School and conducted research at MIT on art science collaborations. She is a member of the Bavarian Elite Academy and the Elite Network Bavaria. To access her current work, please visit her portfolio.

This is Lea Luka's vlog entry for this year's Mellon School at Harvard asking voices from cultural visionaries from Germany and the US as well as from our current Mellonites the question: What role can the performing arts play in a future in which migration will likely increase?
Lea Luka is a artist and creator working in the intersection of music, performing arts, media, and science. Her vision is to create rhizomatic projects that happen in transdisciplinary spaces.

Lea Luka is an outstanding musical innovator who investigates, challenges and extends the existing norms of music-based projects. She incubates and develops multidisciplinary formats and carves out a unique path at the nexus of music, theater, art and critical inquiry.
Marina Abramovic
Artist
Ich bin fest davon überzeugt, dass Lea Luka Sikau eine zukunftsweisende und verantwortungsvolle Kulturmanagerin des 21. Jahrhunderts wird.
Sir Peter Jonas CBE
Ehemaliger Intendant Bayerische Staatsoper
I highly recommend Lea Luka Sikau as she is passionate about the arts, used to work in interdisciplinary and intercultural research contexts and tackles every challenge with a refreshing can-do attitude.
Prof. Maurice Lausberg
Gründer der Kulturberatung actori
I cannot recall having met someone, much less someone so young, who combines a curiosity about the world, openness of spirit, and a degree of maturity, professionalism, and good humor.
Elena Park
Supervising Producer Metropolitan Opera HD Series
Ich bin der festen Überzeugung, dass sie in Zukunft eine hervorragende, innovative Kulturmanagerin werden wird, die weiß, wie sie als kluge Interessenvertreterin der jeweiligen Kulturinstitution gegenüber politischen Instanzen erfolgreich agieren kann.
Prof. Martin Maria Krüger
Präsident des Deutschen Musikrats
Lea Luka is a star in my heart.
Ai Wei Wei
Artist
This video shows the transdisciplinary project TUM: Junge Akademie of the Technical University of Munich in which I lead a research group on framing variables and credibility.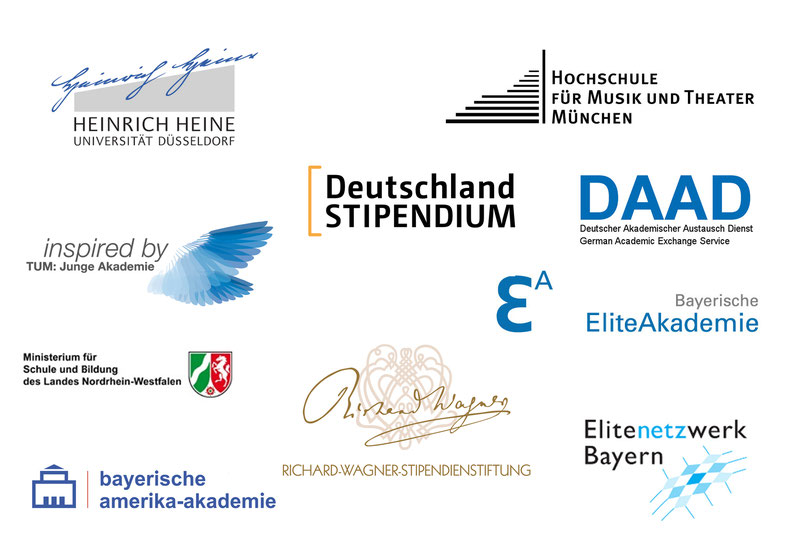 Lea Luka wurde mehrfach ausgezeichnet, sowohl für Ihre Stimme, als auch für universitäre Leistungen, ehrenamtliches Engagement und interkulturelle Kompetenz.
Hier eine Auswahl der Auszeichnungen:
- Fellow der Bayerischen Amerika Akademie
- Stipendiatin Bayerische Eliteakademie
- Stipendiatin Max-Weber-Programm des Elitenetzwerks Bayern
- Stipendiatin Richard-Wagner-Stipendienstiftung
- Stipendiatin Deutschlandstipendium
- Stipendiatin Deutscher Akademischer Austauschdienst (DAAD)
- Stipendiatin Heinrich Heine High Potential Grants
- Preisträgerin Reading Experience and Development Award
- Preisträgerin Exzellenzlabel CertiLingua
- Bundespreisträgerin Jugend musiziert
Seit vielen Jahren engagiert sich Lea Luka nicht nur in zahlreichen Benefizkonzerten, sondern auch für die medien- und kulturpolitische Landschaft ganz Nordrhein-Westphalens und in der Jungen Akademie der Technischen Universität München.
Hier Beispiele für ihre bisherigen Positionen:
- Projektleitung TUM: Junge Akademie
- Sprecheramt Kinder- und Jungendrat NRW - Mitglied Jugendrat Düsseldorf
- Beratendes Mitglied Kulturausschuss Düsseldorf
- Mitglied der Kulturpolitischen Gesellschaft e.V.
Mezzo-soprano, scholar, and cultural impresaria Lea Luka (*1996) has carved a niche for herself at the nexus of critical inquiry, media art, and music. With her long-standing work in cultural policy, she opened up the theaters, recital halls and museums for young people in Dusseldorf and developed programs together with the artistic directors of those very institutions to make cultural programming more accessible.
She holds degrees in classical singing and performance (Robert Schumann University), media and cultural sciences (Heinrich Heine University), and a graduate degree in cultural and music management (University of Music Munich). She was awarded with the Fellowship for Harvard's Mellon School for Theater and Performance Research this summer by the Bavarian America Academy. Currently, she is conducting research at MIT's Center for Art, Science and Technology and Harvard's Theater, Dance and Media Department funded by the German Academic Exchange Service and the Netzwerk Engagement Foundation.
She has learnt from, worked, or performed with: Jörg Widmann, Ai Wei Wei, Andrey Boreyko, Sxip Shirey, Johanna Doderer, Sarah Maria Sun, Axel Kober, Hans W. Henze, Edda Moser, Jay Scheib, Sir Peter Jonas, Barbara Bonney, Brigitta Muntendorf, Paola Prestini, Joan Punyet Miró, Marina Abramovic, and Anthony Roth Costanzo among other artists who have influenced her projects and research endeavors. During her time in Boston she is develops concert formats about the mirror with Jérôme Mouffe PhD, Professor for Guitar at NEC.
In summer, she worked closely together with Paola Prestini and Elena Park as Executive Assistant for the new music incubator National Sawdust. As a cultural impresaria, she co-founded the youth choir Akademie für Chor und Musiktheater for music theater and dance with the vision to rethink the interplay of bodily movements and the vocal instrument, founded the award-winning baroque ensemble Messa di Voce in Munich and is acting as a Jury and Board Member of the Rhônefestival für Liedkunst Switzerland.
Lea Luka worked for the German Embassy in London in the Cultural Department and supported the election campaign for a German Member of the Parliament and current Deputy for Digitalization. She has received numerous grants, awards and fellowships by the following institutions naming just a few: Richard-Wagner-Scholarship Foundation, Bavarian Elite Academy, Mozarteum Salzburg, Scholarship of the German State, Ministry of Education and the Arts North Rhine-Westphalia, Elite Network Bavaria, Max Weber Program, Mozartfest Wurzburg, German Academic Exchange Service, RED Award, Young Academy of the Technical University of Munich.
Her interest in in-depth scholarship brought her to lead a research team of graduate students over a two year period on the topic of credibility in online videos at the Technical University of Munich. Moreover, she lead a research team at the University of Tokyo within a program about design thinking and critical inquiry. This fall, she was honored to be part of a Bavarian delegation by the Foundation of the Bavarian Economy that went to Vietnam and China to examine structures of transnational relations.